Maryland Approves Three New Apprenticeship Programs and Adds 11 Youth Apprenticeship Employers
Expanding Opportunities for Marylanders While Building the State's Future Workforce
BALTIMORE (November 13, 2019) – The Maryland Department of Labor today announced that the Maryland Apprenticeship and Training Council has approved three new registered apprenticeship programs and 11 new youth apprenticeship employers. These additions to Maryland's apprenticeship programs are expanding opportunities for students and workers in high-wage skilled trade jobs and non-traditional industries while supporting the workforce needs of local businesses.
"As Maryland recognizes National Apprenticeship Week, we are excited to welcome a number of new employers to our apprenticeship team," said Labor Secretary Tiffany Robinson. "These new partnerships allow us to further diversify our registered and youth apprenticeship programs while encouraging our state's jobseekers to take advantage of Maryland's many earn and learn apprenticeship opportunities."
Apprenticeships are full-time careers that include on-the-job training and classroom instruction that allow apprentices to earn while they learn. Anyone 18 or older can be a registered apprentice, while high school students can pursue youth apprenticeships in. The school-to-apprenticeship model allows youth ages 16 or 17 to register as apprentices with a registered apprenticeship sponsor prior to graduation.
At the November council meeting, OST Global Solutions, Willard Agri-Service, Inc., and Access to Wholistic and Productive Living, Inc. were approved as new apprenticeship sponsors. These new programs include occupations such as Marketing Manager, Agricultural Service Applicator, and Community Health Worker. Each of these occupations has not previously been available in Maryland through registered apprenticeship.
The Maryland Apprenticeship and Training Council also approved the addition of 11 new eligible employers for the Apprenticeship Maryland Program, the state's youth apprenticeship program. Maryland's youth apprenticeship program now has over 135 participating employers statewide. These employers, located in Allegany, Anne Arundel, Baltimore City, Baltimore, Frederick, Montgomery, Queen Anne's, Talbot, and Washington counties, include: Contour Construction, LLC, First Peoples Community Federal Credit Union, Gruber-Latimer Restoration, Inc., E&B Automotive, Inc., Queenstown Collision Center, Inc., Spring & Associates, Inc., The Inn at Perry Cabin, C&R Electric, Inc., Shepherd Electric, Inc., Shapiro and Duncan, Inc., and Tulkoff Food Products.
"The opportunity to partner resonates with our core Pillar of Service," said Jennifer Powell, Human Resources Director for The Inn at Perry Cabin. "As a business with a long standing legacy and deep roots within the community, we look forward to this newest partnership and opening the doors of hospitality learning to the youth of the community."
Businesses and job seekers interested in apprenticeships are invited to call 410-767-2246 or e-mail info@mdapprenticeship.com.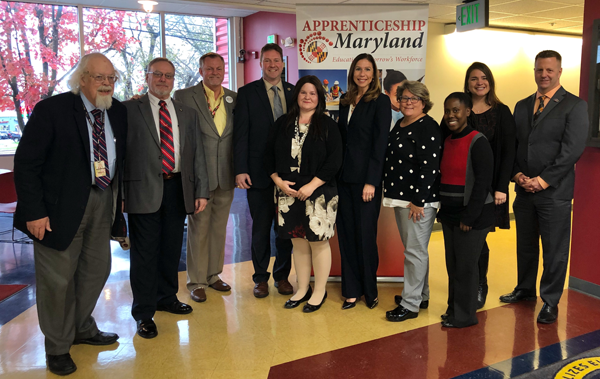 Secretary Tiffany Robinson with Labor's Apprenticeship Team at the MATC meeting
About the Maryland Department of Labor
The Maryland Department of Labor is committed to safeguarding and protecting Marylanders. We're proud to support the economic stability of the state by providing businesses, the workforce, and the consuming public with high-quality, customer-focused regulatory, employment, and training services. For updates and information, follow the Maryland Department of Labor on Twitter (@MD_Labor), Facebook and visit our website.
MEDIA CONTACT:
Fallon Pearre
Office: 410-230-6241
Cell: 443-509-4630