The Educational Foundation for Baltimore County Public Schools - Maryland Apprenticeship and Training Program (MATP) Success Story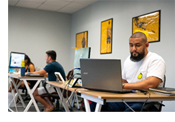 Less than a year after graduating from Towson University with a degree in public relations, 26 year-old Bilaal Daghar found himself searching for a job he felt passionate about. Previously a bartender, Daghar heard about an apprenticeship program at Zest Social Media Solutions, and since his start at Zest, has been promoted three times in his two-and-a-half year employment with the company.
Under his apprenticeship program, Daghar worked closely with many co-workers at Zest, learning the ins and outs of the digital media sphere. He spent time gaining certifications in programs such as Google Analytics and Facebook Ads Manager, all while being compensated during his apprenticeship period. Daghar stayed self-motivated and organized at work, using his certifications to his advantage, moving from apprentice, to associate digital specialist, senior digital specialist, and now digital strategist. Daghar now manages multi-million dollar accounts confidently, and his dedication to his personal growth, as well as the success of Zest has pushed him to his current position.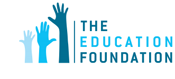 Tim Bojanowski, president of Zest Social Media Solutions, runs the Registered Apprenticeship Program for The Education Foundation of Baltimore County Public Schools, and has seen individuals who go through these programs to become a major asset to his company. As a Towson native, Bojanowski has become an integral part of the community, and incorporates dedication to Baltimore businesses into the company culture of Zest. With services such as creative and branding support, web development, and content marketing to name a few, Zest offers the opportunity for passionate individuals to immerse themselves in digital marketing.
In the next decade, millennials and Gen-Z are expected to make up 58% of the workforce, and with the consistent incorporation of technology and social media into business, companies will likely have to alter their marketing strategies. Zest has moved to the forefront in the digital marketing sector, and with their apprenticeship program, helps set their employees apart as an essential member to the success of their company, and in their future career. Bilaal Daghar is a prime example of this success, showing the long-term benefits programs like this can have on individual, team, and company achievements, no matter what previous experience the individual possesses.
---
For additional information, contact:
Division of Workforce Development and Adult Learning
Maryland Apprenticeship and Training Program
1100 N. Eutaw Street, Room 209
Baltimore, MD 21201
Phone: 410-767-2246
Fax: 410-333-5162
E-mail: info@mdapprenticeship.com