Association of Air Conditioning Professionals - Maryland Apprenticeship and Training Program (MATP) Success Story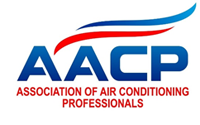 Evelyn Zavala Rhodes started as a maintenance worker at Foulger-Pratt Management in Potomac, MD after emigrating from Ecuador in 2004. Recognizing Rhodes' potential for success in the HVAC trade, Foulger-Pratt secured a spot for her in the ACCA Registered Apprenticeship Program (now known as the AACP Apprenticeship Program). As a native Spanish speaker, Rhodes found the related instruction courses at Montgomery College challenging. Nevertheless, she learned new HVAC terminology by doubling her study efforts, often re-writing and re-reading assignments multiple times in order to familiarize herself with technical language.
Rhodes' hard work paid off: each year she received scholarships for her excellent grades and work. She graduated the Apprenticeship Program as Montgomery College's valedictorian, and soon went on to complete her Associate's degree in Building Trades Technology. Rhodes now teaches basic electricity in the AACP Apprenticeship Program and serves as a tutor for the program's Spanish-speaking students. She hopes to eventually pursue a degree in mechanical or electrical engineering.
---
For additional information, contact:
Division of Workforce Development and Adult Learning
Maryland Apprenticeship and Training Program
1100 N. Eutaw Street, Room 209
Baltimore, MD 21201
Phone: 410-767-2246
Fax: 410-333-5162
E-mail: info@mdapprenticeship.com