Independent Electrical Contractors–Chesapeake - Maryland Apprenticeship and Training Program (MATP) Success Story

DeShawn Aytch's introduction to the Independent Electrical Contractors Association (IEC) Pre-Apprenticeship Electrical Training Program came through a partnership with the Annapolis Housing Authority called Grow Green Jobs Program. This HUD sponsored initiative provided DeShawn, who was coming out of high school searching for a way to provide for her family, with an opportunity to enter a career that was upwardly mobile and paying a living wage.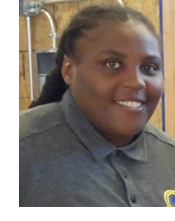 After completing the Pre-Apprenticeship program, DeShawn entered into the IEC 4 year Electrical Registered Apprenticeship program and completed her studies in June of 2018 and graduated with top honors. She currently works for IEC contracting member, Pro Energy Electric, LLC as a Journeyman Electrician. Company owner, William Wright-El had these words to say, "DeShawn is reliable, trustworthy and does what she says. When I assign a task to her, I never have to go back to check the efficiency or the completeness of her work."
DeShawn credits IEC with helping her gain the skills, knowledge, and experience, which have led to her ability to make, in her words, "a lot more money. I mean a lot more." The positive lessons learned from participating in an electrical apprenticeship at IEC has motivated DeShawn to return as an evening instructor teaching first year, Level 1 apprenticeship classes. When asked why she choose to reach back and to teach year one, her response was the gratitude she felt for her instructors and excellent hands-on experience she received through the IEC program. But there was also a compassionate reason for Deshawn wanting to teach year one. She wanted to become a role model to students to ensure that they received the right skills, knowledge and abilities to function as competent electricians.
---
For additional information, contact:
Division of Workforce Development and Adult Learning
Maryland Apprenticeship and Training Program
1100 N. Eutaw Street, Room 209
Baltimore, MD 21201
Phone: 410-767-2246
Fax: 410-333-5162
E-mail: info@mdapprenticeship.com